I've been in a mood to complete crafty projects since the election. I think this is my therapy to deal with the outcome and fall out. I feel productive.
The first thing I finished was crocheting Sarah's Mankato school colors scarf. Well, let me restate that: I finished the body of the scarf early in January. Just tonight I put the fringe on t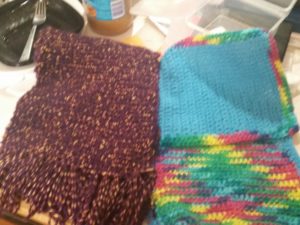 he scarf and it is officially finished. I also finished two dishcloths Sarah can take with her when she leaves for college in August. You need something to clean out coffee mugs.
I also actually did AND finished a December Daily album — by the 15th of January. After my 10 year, drawn out Journal Your Christmas album finale last year, I am proud that I started something and actually completed it within a month.
The next thing I want to finish is the scrapbook album from our China trip in 2012. It's half done. I have all the paper. I just need to print pictures and do the layouts. But it's a real mental block for me. Not because it was a bad trip — far from it. I think it's just that it is such a large project. It's 1 1/2 albums right now, and will probably wind up being three albums. I need to break this into baby steps; probably the first step would be printing pictures!
I am in a mood — a mood to complete things. Since this is "Finish It February", I'm really going to do it. China Trip album, I'm looking at you.