My computer is back up to speed, as of last Thursday, so it was time to get back to scrapbooking!
I've been doing quite a bit of traditional Project Life pages with some older photos.  I'd forgotten that most of my photos from the last millennium were not 4 x 6, but some odd hybrid — maybe 3.5 x 5.  My traditional pages with these photos use lots of the white blank filler cards to fill the pages.  What I should be doing, now that I think of it, is use my larger paper scraps to make 4 x 6 mats.  Time to get out the cutter!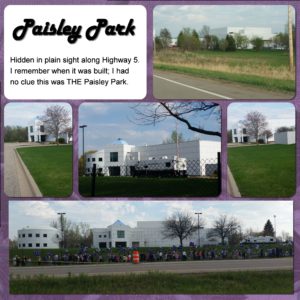 The pages I made about Prince's death used a bunch of Project Life digital templates.    I did modify a few of the templates to accommodate panoramic size photos, like the image at the bottom of the Paisley Park page. The pages came through fairly easily, but I spent a lot of time writing and editing.
I didn't use a kit, because there's not a "my favorite R&B star has died" kit.  I used various purple background papers in my digital stash, most of them from Club Scrap digital kits, and white backgrounds.  It works.
I've also don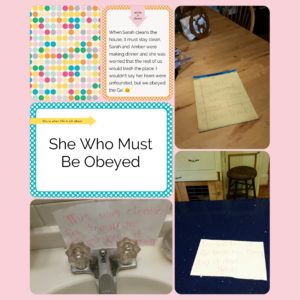 e some Project Life app work recently.  Now that my oldest daughter is officially a senior, I need to get to work on her Project High School album.  I finished her freshman year, and a couple layouts for her sophomore year.
This layout to the left is for the senior year section.  I recently had our house professionally cleaned, and Sarah required the less-than-neat members of the family to keep it clean for the meal she and her girlfriend were cooking.  The cards and colors are from the Teen Girl kit.
I'm relishing the flexibility I have with scrapbooking.  I can do it in any form that I want, and — this is the cool part — where I want.  Tough morning at work?  Take 15 minutes at lunch to put together a couple layouts in the PL app.  If i have a bunch of physical memorabilia, a traditional page is called for.  Or I can do anything between.  I've got it all in my arsenal.  That feels productive.